Dr. Elisabeth Rippy
BSc MBBS MSc FRCS FRACS
Consultant Breast Surgeon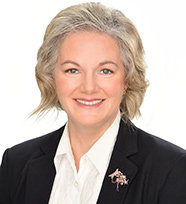 Dr. Elisabeth Rippy
I am an experienced breast surgeon with specialist training in reconstruction; an oncoplastic surgeon. I have been practicing advanced breast surgery exclusively for over 10 years and I love what I do.
I am passionate about my work and try to reduce the impact of surgery. My team and I aim to make the journey through diagnosis and treatment as smooth and as painless as possible. My favourite part of my job is seeing my cancer patients after they have come through their treatment. They have their lives back and they are smiling again. It makes everything I do worthwhile.
What do I do?
I treat benign breast problems including breast reductions for back and neck problems.
I treat breast cancer including breast reconstructions. I utilize the most up to date surgical techniques to minimize the psychological and cosmetic effects of surgery.
My Promise:
To explain a patient's diagnosis in a calm and supportive environment
To give as much time as needed by each individual to go through diagnosis and treatment
To offer as much choice as safely possible with regards to surgical options, utilizing the most up to date modern oncoplastic techniques
To offer all suitable mastectomy patients a reconstruction, immediate if possible, delayed if necessary
 Multidisciplinary cancer care with involvement in clinical trials
A team approach which includes multiple services including a breast care nurse, clinical psychologist, physiotherapist, and dietician
To provide aftercare for surveillance and living well after cancer
Professional Qualifications BSc MB.BS
| | | |
| --- | --- | --- |
| BSc | Biochemistry and Physiology King's College, London | June 1989 |
| MB.BS | Bachelor of Medicine/Bachelor of Surgery Charing Cross and Westminster Medical School, London | January 1995 |
| MRCS | Member of Royal College of Surgeons Royal College of Surgeons, Edinburgh | Feb 2001 |
| MSc | Surgical Science-Molecular Biology of cancer University College, London | Sept 2002 |
| FRCS | Fellow of Royal College of Surgeons Royal College of Surgeons, Edinburgh | Feb 2008 |
| ONCOPLASTIC FELLOWSHIP | Nottingham, United Kingdom | 2007/2008 |
| FRACS | Fellow of Royal Australasian College of Surgeons Royal Australasian College of Surgeons | Sept 2012 |
Professional Memberships
Australian Society for Breast Disease
Breast SurgANZ
Royal Australasian College of Surgeons
Royal College of Surgeons(Edinburgh)
Present Appointments
Consultant Breast Surgeon
Sydney Breast Clinic
L12/97-99 Bathurst Street
Sydney, NSW, 2000
Designated Surgeon
Breast Screen NSW
St Leonards
Private Rooms:
The Poche Centre
40 Rocklands Road
North Sydney NSW 2060
Sydney Breast Clinic
L12/97-99Bathurst Street
Sydney, NSW, 2000
Operating Privileges:
North Shore Private Hospital
3 Westbourne Street
St Leonards NSW 2065
Mater Hospital
40 Rocklands Road
North Sydney 2060
St Vincent's Private Hospital
406 Victoria Street
Darlinghurst NSW 2010
Hunters Hill Private Hospital
9 Mount Street
Hunters Hill NSW 2110
Presentations – I regularly teach and present
RNSH Medical And Surgical Women's Society 17th Oct 2016
Nurses Day Surgery Course - Breast Surgery, Sept 24th  2016, Kolling Auditorium, North Shore Hospital
Breast Cancer and Reconstruction. Northern Sydney Cancer Support Group; March 2015, Royal North Shore Hospital
Breast Augmentation and Reconstruction, The Breast Surgeon and Ultrasound August 2014, Feb 2015 – Australian Society for Ultrasound in Medicine (ASUM)
Breast Reconstruction – 45th Annual Scientific Meeting (ASUM) Sept 2015
Use of Blue Dye in Sentinel Lymph node biopsy: time to re-evaluate. G Wong, EE Rippy, M Bochner, R Ainsworth, ASBD Sep 2013 Cairns
Nipple and Skin Sparing Mastectomy – 80th Annual Scientific Congress, Royal Australasian College of Surgeons, 2-6th May 2010
Five Year Audit of Local Recurrence after Wide Local Excision Chase Farm Hospital 2003
Future Presentations
I regularly speak at the Mater and Royal North Shore Hospital Breast cancer support group programs such as the Early Breast Cancer Information Series. My next talks are on Breast Cancer Surgery and Reconstruction at the Mater Hospital on 16 May and 31 October 2017.
How I Do a Superior/SuperioMedial Pedicle for therapeutic mammoplasty/ breast reduction. Oncoplastic masterclass. 86th Annual Scientific Congress, Royal Australasian College of Surgeons,10 may 2017.
Courses – I keep my skills up to date
Liposculpture Workshop, Australasian College of Cosmetic Surgery Oct 2016
Adip'Sculpt Liposculpture Symposium Jul 2016
Breast Ultrasound Course – Australian Institute of US Oct 2009
Advanced Skills in Breast Disease Management March 2007
Intermediate Skills in Oncoplastics /Breast Reconstruction Surgery April 2006
Core Skills in Oncoplastics and Breast Reconstruction Surgery Sept 2005
Intermediate Distance Learning Breast Disease Course April 2003
Publications
Breast Cancer in Young Women, The Medical Observer (due for publication June 2017)
Breast Reconstruction EE Rippy, The Medical Observer. October 2015
The Angelina Effect. E E Rippy. The Medical Observer. Dec 5 2014.
Influences on Decision for Mastectomy in Patients Eligible for Breast Conserving Surgery. EERippy, R Ainsworth, D Agarwal, J Kollias, M Bochner, R Whitfield. The Breast, vol 23, issue 3, June 2014, pg. 273-278
A comparison of vitamin D activity in paired non-malignant and malignant human breast tissues. Rachel J Suetani, Kristen Ho, Shalini Jindal, Jim Manavis, Paul M Neilsen,Kathleen I Pishas, Elisabeth Rippy, Melissa Bochner, James Kollias, P Grantley Gill, Howard A Morris, David F Callen. Mol Cell Endocrinol. 2012 Oct 15;362(1-2):202-10
Pregnancy after breast cancer: the importance of active counselling  and planning. EE Rippy, I Karat, MWKissin, Breast. 2009 Dec; 18(6)pp 345-50
Is HRT justified for symptom management in women at higher risk of developing breast cancer? Rippy L, J Marsden, Climacteric 2006 Dec. 9 (6)pp 404 -15
My Story
I am a world traveller. I was born in California, USA and was brought up in London, UK. I have lived in Hong Kong for a few months and in South India during my medical school elective. I spent a year in Gosford, NSW after finishing my initial medical training and I loved it so much that I always wanted to come back. When my advanced training finished in the UK, I was offered a post as a breast and reconstructive surgeon in Adelaide, SA. I loved Australia and decided to stay permanently. I moved to NSW in 2013 and set up practice in Sydney.

To know more about Dr Rippy, please click here
Dr. Elisabeth Rippy Rooms
Level 12
97-99 Bathurst Street
Sydney NSW 2000
Phone: (02) 9427-4450
Poche Centre Rooms
Suite 2
Level 2, The Poche Centre
40 Rocklands Road,
North Sydney NSW 2060
North Shore Private Hospital
3 Westbourne Street,
St Leonards NSW 2065
Hunters Hill Hospital
9 Mount St,
Hunters Hill NSW 2110
Mater Hospital
25 Rocklands Road,
N Sydney NSW 2060
St Vincents Private Hospital
406 Victoria St,
N Sydney NSW 2060